9/23/20 - UPDATED NOTICE RE SHIPPING TIMES, TIME IN TRANSIT, LIVE GUARANTEE

PLEASE NOTE THAT WE HAVE FINALLY CAUGHT UP SOMEWHAT ON THE COVID RELATED BACKLOG.
WE HAVE MODIFIED OUR SHIPPING SCHEDULE AND ARE SHIPPING MONDAY-THURSDAY, STRIVING TO GET ORDERS OUT AS QUICKLY AS POSSIBLE;
ORDER FULFILLMENT ON PRIORITY MAIL ORDERS MAY NOW BE DELAYED BY A COUPLE OF DAYS.

PLEASE BE AWARE THERE MAY BE CARRIER RELATED DELAYS AS CARRIERS ARE NO LONGER GUARANTEEING TRANSIT AND DELIVERY TIMES; THEREFORE WE ALSO CANNOT GUARANTEE TIMES IN TRANSIT.
FEDEX IS DOING THE BEST JOB OF KEEPING UP WITH THIS DEMAND.
UPS GROUND IS EXPERIENCING A LOT OF ISSUES WITH DELAYED AND LOST PACKAGES, AS IS USPS.
USPS PRIORITY MAIL IS EXPERIENCING EXTENDED DELAYS IN TRANSIT.
WE ARE UNABLE TO OFFER OUR USUAL LIVE GUARANTEE ON PACKAGES LOST OR DELAYED IN TRANSIT.
WE SUGGEST CUSTOMERS ORDER AT LEAST 2 WEEKS IN ADVANCE OF THEIR ANTICIPATED NEED.
ALSO PLEASE NOTE THAT DUE TO HEAVY VOLUME WE ARE ALSO EXPERIENCING SOME DELAYS IN
RESPONSE TIME TO EMAIL INQUIRIES AND CUSTOMER SERVICE REQUESTS.
WE APPRECIATE YOUR PATIENCE DURING THIS TIME. THANK YOU.
*SALES • SPECIALS*
Updated 6/23/20
MULBERRY FARMS EXCLUSIVES!!
SALES & SPECIALS:
NEW/HOT SALES:
_________________________________________
CONTINUING/RETURNING SALES:
*HORNWORM GIVE-AWAY!**
FREE HORNWORMS – BECAUSE YOU WANT 'EM!
[Variety of Sizes and Colors]
Buy 2 Cups, Get 1 Cup FREE!
-OR-
Buy 4 Cups, Get 2 Cups FREE!
CLICK HERE (or On Picture Below) TO GET YOUR FREE HORNWORMS WHILE SUPPLIES LAST!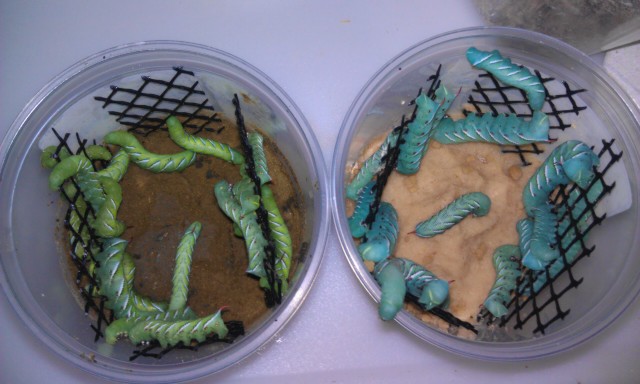 _______________________________________________
*$5 SALE*
MEALWORMS & BSFL -- REDUCED TO $5!
(BY POPULAR DEMAND - ORDER @ LINK(S) BELOW!)
$5 - 500 MEALWORMS! (Reg. Price $7.95!)
$5 - 100 SMALL BLACK SOLDIER FLY LARVAE! (Reg. Price $6.49!)
$5 - 100 MEDIUM BLACK SOLDIER FLY LARVAE! (Reg. Price $6.49!)
_____________________________________________
MULBERRY FARMS GIFT CERTIFICATES .... THE PERFECT GIFT FOR A FELLOW EXOTIC ENTHUSIAST!
[CLICK HERE OR ON GIFT CERTIFICATE BELOW TO ORDER YOUR MULBERRY FARMS GIFT CERTIFICATES]
.00
*SILKWORM EGGS & LARVAE*
SILKWORM EGGS:
NEW SHIPMENT ARRIVING WEEK OF 6/22/20 - ALL COUNTS NOW AVAILABLE!
LIVE SILKWORM LARVAE:
**LIVE SILKS ON SALE IN LIMITED QUANTITIES.
We also continue to offer our silkworm eggs and food.**
IS THE ITEM YOU WANT OUT OF STOCK?
NOTE THAT if we are sold out of an item you are looking for, you can use our "in stock notification" feature to be notified immediately when any out of stock item is once again available to order. First click on the item, then click the "in stock notification" link, enter your email address, and you will receive an email when that item becomes available. Thank you.

Mulberry Farms remains dedicated to providing the highest quality feeders and service above the industry standard to our customers. As always, we appreciate your feedback!
Specials