4/20/20 - NOTICE RE SHIPPING/ORDER FULFILLMENT:
PLEASE NOTE THAT DUE TO CURRENT HEAVY ONLINE SHOPPING DEMANDS,
WE ARE EXPERIENCING SHIPPING DELAYS AND HAVE MODIFIED OUR SHIPPING SCHEDULE. WE ARE SHIPPING MONDAY-THURSDAY AND STRIVING TO GET ALL THE WEEK'S ORDERS OUT BY THURSDAY; HOWEVER, SHIPPING ON SOME PRIORITY MAIL ORDERS THAT COME IN AFTER TUESDAY MAY BE DELAYED UNTIL THE FOLLOWING MONDAY. WE APPRECIATE YOUR UNDERSTANDING AND YOUR BUSINESS!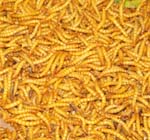 mealworms
MEALWORMS
Our Mealworms come in two sizes - Regular (approx. 3/4 in.) and Giant (up to 1-1/2 in.). They are easy to keep and nutritious!
NOTE: STORE AT 45-55 DEGREES, BRAN OR OATMEAL SUBSTRATE W/CARROTS OR POTATOES FOR MOISTURE.
Featured Products

$2.95 - $69.95