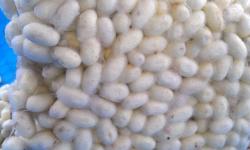 POSTAGE PAID PAGES-- SHIPPING INCLUDED: > Postpaid Silk Cocoons (Non-Living)
NOTE: A NEW BATCH OF SILKWORM COCOONS HAS ARRIVED! THESE COCOONS ARE FROM A NEW SUPPLIER, ARE MUCH BETTER QUALITY (WITHOUT THE CHEMICAL SMELL OF THE PREVIOUS SUPPLIER'S COCOONS), AND WE FEEL YOU WILL BE VERY SATISFIED WITH THE QUALITY OF THESE COCOONS.
All POSTPAID items ship separately via USPS Priority Mail. Postage is included in the prices shown.
High Quality Silkworm Cocoons - Lot of 25 and up - price includes USPS priority mail shipping!

["BULK" DISCOUNTS AVAILABLE -- LOTS OF 5,000, 10,000 OR MORE. EMAIL US FOR BULK COCOON PRICING!!]
NOTE: Postage paid products ship separately via USPS Priority Mail shipping and cannot be combined with other items or shipping methods in your shopping cart for purposes of calculating shipping. If you add other non postpaid items to your shopping cart when ordering postpaid items regular shipping charges will be added. If we are able to combine shipping and save you money we will include additional crickets or other product ordered to make up for any shipping overage caused by combining postpaid and non postpaid items. As always, if you have any questions or problems pertaining to our website, please email us at admin@mulberryfarms.com. Thank you!