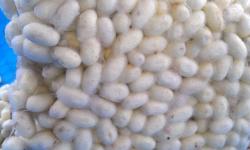 Products > POSTAGE PAID PAGES-- SHIPPING INCLUDED: > Postpaid Silk Cocoons (Non-Living)
All POSTPAID items ship via USPS Priority Mail. Postage is included in the prices shown.
High Quality Silkworm Cocoons - Lot of 25 and up - price includes USPS priority mail shipping!

[DEEP "BULK" DISCOUNTS AVAILABLE -- LOTS OF 5,000, 10,000 OR MORE. EMAIL US FOR BULK COCOON PRICING!!]
PLEASE READ: IT HAS BEEN BROUGHT TO OUR ATTENTION IN THE PAST THAT A GLITCH IN THE CHECKOUT PROCESS CAUSED SHIPPING CHARGES TO BE APPLIED TO SOME POSTAGE PAID ORDERS. THIS PROBLEM HAS BEEN "FIXED" BUT WE ARE KEEPING THIS NOTICE HERE IN CASE IT HAPPENS AGAIN. IF YOU PLACE AN ORDER FOR POSTAGE PAID ITEMS ONLY, PLEASE EMAIL US AT ADMIN@MULBERRYFARMS.COM IF SHIPPING CHARGES ARE BEING ADDED (NOTE THAT IF YOU ADD NON POSTAGE PAID ITEM(S) TO AN ORDER CONTAINING POSTPAID ITEM(S) THE SITE WILL CHARGE POSTAGE FOR THE NON POSTPAID PORTION OF YOUR ORDER). THANK YOU.