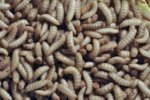 Products > REPTIWORMS
7-26-14 INVENTORY UPDATE: Our supplier has notified us that their production is up and running. We currently have small and ex-small sizes and medium size will be available again on Thursday 7/31. Thank you for your patience.
ReptiWorms™ are the same species of Black Soldier Fly Larvae (Hermetia illucens) as Phoenix Worms® and Calciworms®!*
*(Phoenix Worms® is a registered trademark of Insect Science Resource LLC. All rights reserved)
*(Calciworms® is a registered trademark of Timerberline Fisheries. All rights reserved
We are now offering Reptiworms™* as a quality option for those who want this small and nutritious feeder (compare ReptiWorms™ to Phoenix Worms® - also black soldier fly larvae, sold under different brand name). We are impressed with the consistent quality of ReptiWorms; as always your feedback is appreciated. Thank you.
*REPTIWORMS ARE AVAILABLE IN 1/2" AND 3/16" SIZES @ 150 PER CUP; AND NOW AVAILABLE IN 9/16" SIZE @ 100, 200 AND 500 COUNTS!
SUBSTITUTION POLICY: Mulberry Farms reserves the right to substitute another quality brand of black soldier fly larvae on occasion if supply requires it.