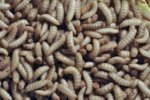 Products > REPTIWORMS
9/2/14: ALL SIZES BACK IN STOCK!

ReptiWorms™ are the same species of Black Soldier Fly Larvae (Hermetia illucens) as Phoenix Worms® and Calciworms®!*
*(Phoenix Worms® is a registered trademark of Insect Science Resource LLC. All rights reserved)
*(Calciworms® is a registered trademark of Timerberline Fisheries. All rights reserved)
We are now offering Reptiworms* as a quality option for those who want this small and nutritious feeder (compare ReptiWorms™ to Phoenix Worms® - also black soldier fly larvae, sold under different brand name). We are impressed with the consistent quality of ReptiWorms and believe you will be too; as always your feedback is appreciated. Thank you.
*REPTIWORMS ARE AVAILABLE IN "Extra Small" (Approx. 3/16") and "Small" (Approx. 1/2") SIZES @ 150 PER CUP; AND NOW AVAILABLE IN "Medium" (Approx. 9/16") SIZE @ 100, 200 AND 500 COUNTS!
TO OUR CUSTOMERS WHO ARE HERE LOOKING FOR PHOENIX WORMS®, WE ARE NO LONGER CARRYING THAT PARTICULAR BRAND OF BLACK SOLDIER FLY LARVAE. PLEASE NOTE THAT WE ARE DEDICATED TO PROVIDING YOU WITH THE HIGHEST AND MOST CONSISTENT QUALITY PRODUCT AND ARE NOW OFFERING REPTIWORMS™ BRAND BLACK SOLDIER FLY LARVAE FOR THOSE WANTNG THIS SMALL, NUTRITIOUS FEEDER. WE ARE CONFIDENT YOU WILL BE VERY SATISFIED WITH THIS PRODUCT AND WELCOME YOUR FEEDBACK!*
*Compare ReptiwormsTM to Phoenix Worms® -- Black Soldier Fly larvae sold under a different brand name.
SUBSTITUTION POLICY: Mulberry Farms reserves the right to substitute another brand of black soldier fly larvae on occasion if supply requires it.
Featured Products

Price Varies